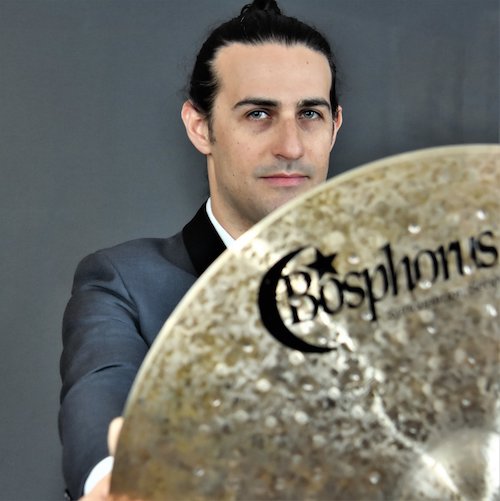 Showtime is at 8:00 PM

Tickets available at
The Palace Theater Box Office
 ( 203 ) 346-2000  
-or-
  www.PalaceTheaterCT.org
Dan Pugach is a Brooklyn-based drummer and composer. He is known for his nine-piece ensemble, Dan Pugach Nonet which tours regularly and has played at national venues such as Rockwood Music Hall, Blu Jazz, the Bop Stop, Williamsburg Music Center, among other international venues, such as Shablul Jazz. The Nonet has won two ASCAP Jazz Composer Awards and will release its debut album in 2017. Originally from Israel, Dan served his mandatory three-year military duty as the drummer of the Air-Force Orchestra. He received his Bachelor's degree from Berklee College of Music and his Master's from the City College of New York, where he studied under Hal Crook, Joe Lovano, John Patitucci, Terri-Lyne Carrington and Ari Hoenig. Described as "Rock-solid on drums" by Frank Alkyer in Downbeat magazine, Pugach works full-time as a drummer with Nicole Zuraitis Group, EVA featuring Tom Chapin and Livingston Taylor, Sam Blakeslee Quintet among artists that vary in genres. He has shared the stage and /or recorded with Ingrid Jensen, Rosa Passos, Airto Moreira, Gregoire Maret, Billy Drews, Jeremy Pelt and Dave Stryker, to name a few. His work has got him a reputation of one of the most versatile and sought-after drummers in New York City.

                
www.DanPugach.com
AAA

        Friday September 7, 2018 - Palace Theater Poli Club 

             Albert Rivera Quartet

Showtime is at 8:00 PM

Tickets available at
The Palace Theater Box Office
 ( 203 ) 346-2000  
-or-
  www.PalaceTheaterCT.org



 

Contemporary, smooth, and eclectic – three words that just begin to describe Albert Rivera, "a modern Jazz Messenger" with one of the most exciting and sought-after saxophone sounds in today's jazz scene. Born in Bronx, NY, Albert began playing as a classical musician at age ten, and he made his first appearance at Carnegie Hall two years later. Rivera's distinct style has been greatly influenced by classic jazz greats like Coltrane and by more contemporary sounds, like those of Joshua Redman. "When I first heard Elastic by Redman, I knew it was only a matter of time before I adapted it to my own voice. In my music, when composing new sounds, I use the modal aspect of John Coltrane's works as a creative launching pad, mixing in a variety of grooves and rhythms. My music can make you move, it may make you think, and it definitely will evoke your emotions."

                

 

www.AlbertRiveraJazz.com

 

 

 

AAA

        Friday September 21, 2018 - Palace Theater Poli Club 

             Chris Brubeck's Triple Play

Showtimes at 7:00 PM & 9:00 PM

Tickets available at
The Palace Theater Box Office
 ( 203 ) 346-2000  
-or-
  www.PalaceTheaterCT.org



 

Triple Play is the name given to three outstanding and versatile musicians, Peter Madcat Ruth (on harmonica, guitar, jaw harp, percussion & vocals), Joel Brown, (folk and classical acoustic guitar and vocals) and Chris Brubeck (electric bass, bass trombone, piano & vocals). Collectively they bring a rare level of joy, virtuosity, and American spirit to the folk, blues, jazz and classical music they perform. Triple Play's musical roots go way back (nearly 40 years!) in each member's history. Chris and Madcat have toured and recorded together in different settings since 1969, first as young rock musicians in the group "New Heavenly Blue" (with albums on RCA and Atlantic Records), "Sky King"(on Columbia), and then as jazz musicians touring the world with Dave Brubeck. With an ever-expanding repertoire, the Trio continues to play in concert halls, clubs and festivals all over the country, including performing many of Chris' symphonic arrangements with orchestras across the U.S.

                

 

www.ChrisBrubecksTriplePlay.com

 

 

 

AAA

        Friday October 12, 2018 - Palace Theater Poli Club 

             Kristina Koller Quartet

Showtimes at 7:00 PM & 9:00 PM

Tickets available at
The Palace Theater Box Office
 ( 203 ) 346-2000  
-or-
  www.PalaceTheaterCT.org



 

As a composer, Kristina melds diverse genres of music into her songs. While embracing standards and straight ahead jazz, Kristina arranges tunes in unique ways, knowing that adding to the legacy of jazz is much more important than recreating the performances of others. She reinvents classic material while retaining their essence, putting her own winning personality and fresh ideas into the lyrics that she interprets. Kristina culled her musical chops in the NYC jazz scene, performing at venerable jazz haunts such as Smalls, Smoke, Minton's, Mezzrow as well as The Apollo Theater. She was a featured Discovery Artist at the 2017 Mid-Atlantic Jazz Festival and her quintet were semi-finalists in the 2017 DCJazzPrix competition. Her music connects with new audiences outside of the jazz music circle, melding jazz, funk, R&B & alternative sounds into her arrangements and compositions

                

 

www.KristinaKoller.net