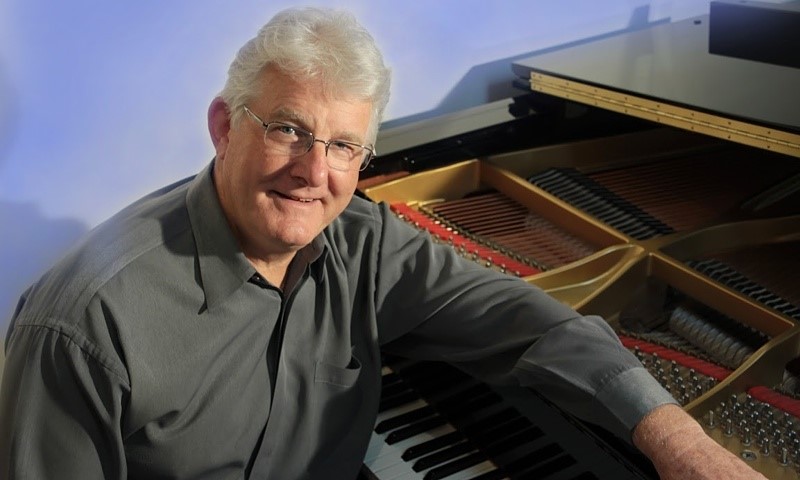 Showtimes at 7:00 PM & 9:00 PM

Tickets available at
The Palace Theater Box Office
 ( 203 ) 346-2000  
-or-
  www.PalaceTheaterCT.org
One could say Bill Mays was born into music. His father was a minister by day and multi-instrument player in his spare time. He would often accompany his mother, a singer with a fine, natural voice. At age five he started piano lessons. In junior high school Bill took up trumpet and baritone horn. His first exposure to jazz came at 14, his first professional gigs began a year later. It's now been a 60-year career and counting, and sharing music remains a great joy. Bill spent four years as a bandsman in the U.S. Navy, fifteen years as a studio musician in Hollywood and then, in 1984, came to New York City to take the next step as a composer, sideman, and leader of his own ensembles. Bill has had the good fortune to work with jazz legends, accompany famed singers, write and arrange for a wide range of bands and orchestras, appear at jazz festivals around the world, and play on hundreds of recordings, including 40 as a leader. Mays worked in Los Angeles as a studio musician from the late '60s on, accompanying Sarah Vaughan and Al Jarreau. In 1984, Mays moved to New York and since then he has worked with Gerry Mulligan, Ron Carter, James Moody, Sonny Stitt, Art Pepper, and the Mel Lewis Orchestra, among others.
www.BillMays.net

Friday August 18, 2023 - Palace Theater Poli Club







Showtimes at 7:00 PM & 9:00 PM

Tickets available at
The Palace Theater Box Office
 ( 203 ) 346-2000  
-or-
  www.PalaceTheaterCT.org




Emily Mazzella is a 21 year old, up and coming jazz singer on the scene. She began music at a very young age; participating in various shows, musicals, and choirs- her first profound musical performance being through an honor choir which was showcased in the renown Carnegie Hall. Coming from R & B, Pop, and all various roots: Emily began to study voice with Jazz Pianist, Composer, and Vocal Coach Lonnie Leibowitz, around the later months of her junior year of high school, leading to her first professional gig as the featured singer, with Lonnie's trio. She has shared her unique message performing at various gigs, most notably in her recent performance with the Birdland Big Band at Birdland Jazz Club in Manhattan, and other NYC clubs. She has also shared the stage alongside Josh Groban during his Harmony Tour Performance at the Jones Beach Theater. Emily began studying at Suny Purchase College, in the Jazz Studies program in Fall of 2020. There she studies under the mentorship of Alexis Cole, Gary Smulyan, and others. She is currently a holder of the Manitou Jazz Studies Scholarship, a scholarship awarded to recognize students for their poignant, expansive, development of their art .

www.EmilyMazzellaMusic.biz

 

 

 


Friday September 9, 2023 - Palace Theater Poli Club






The Guests: Lucy Woodward & Henry Hey







Showtimes at 7:00 PM & 9:00 PM

Tickets available at
The Palace Theater Box Office
 ( 203 ) 346-2000  
-or-
  www.PalaceTheaterCT.org




With a deep appreciation for the legacy of great songs and grooves, well- known master songstress Lucy Woodward along with dynamic collaborator creative pianist Henry Hey invite you to pull up a cozy chair for an energetic yet intimate evening. Drawing from their own expansive professional experience as songwriters and performers, Lucy and Henry will share classic songs from the deep well of writers such as John Lennon, Nina Simone and others and will add their own contributions on top. Born in London and raised in both New York and The Netherlands, Lucy Woodward was raised by an opera singer/musicologist/belly dancer mom and a conductor/composer dad on a steady musical diet of Puccini, middle-eastern music and more. Those early influences helped her learn about the power of melody and story within song craft, eventually leading her to club and coffeeshop gigs, then singing jingles and jazz standards for tips. Lucy first found international Top 40 success in the early 2000s, scoring 2 BMI Music Awards before the end of 2004. Lucy has been a featured artist touring with Pink Martini, Rod Stewart and Snarky Puppy. More recently, Lucy recorded two albums with GRAMMY-nominated guitar virtuoso Charlie Hunter, leading to performances at festivals and jazz clubs in North America and Europe. Henry Hey's relationship to song and melody started from before he was able to walk. As the son of two music-loving parents, Henry was absorbing hours of The Beatles, orchestral music and jazz from his earliest days. The pursuit of music eventually saw Henry moving to New York City, where he would perform with jazz luminaries such as Jeff "Tain" Watts, Seamus Blake and Donny McCaslin. With the industry taking notice, this work led to Hey becoming the musical directors for three notable songsmiths, Rod Stewart (for the "Great American Songbook" tours), George Michael ("Symphonica") and David Bowie ("The Next Day" and the theatrical piece "Lazarus").

www.http://www.LucyWoodward.com/The-Guests-Project